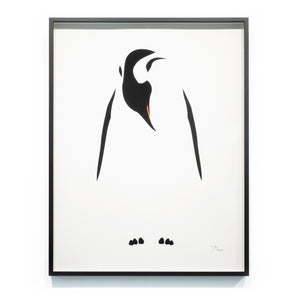 Mr. J. Drawsey
The Emperor penguin is displayed in his classic pose where he normally carries a young on his feet. Without a young the image has a hint of tragedy, signifying the uncertain future faced by Emperor penguins as a consequence of climate change.

Limited edition numbered and signed print 1 of 27. Printed on Fineart cottton paper.
Size 60 x 80 cm 
Price includes premium black shadowbox frame with Museum Glass.